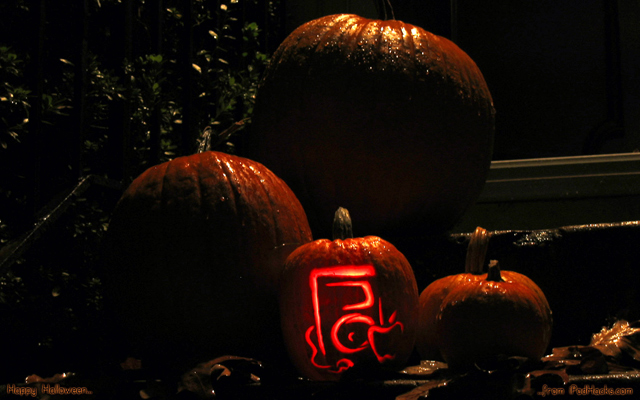 As I sat on the floor of our den, carving this year's pumpkin
into a jack-o-lantern
with my daughter, I was reminded of a bit of caving I did nearly a decade ago as a bit of a Halloween goof for readers of iPodHacks.com, the most successful tech blog I've run independently. (Anybody remember it?)
I started iPodHacks shortly after the original iPod was announced (but before it was released), back in late 2001. There, I covered news related to the iPod and the portable digital music player scene at large, and also provided various product reviews along the way. I shuttered the site in late 2008 in order to entirely focus my efforts towards TouchArcade.com, which I started with Arnold Kim (of MacRumors.com) earlier in the year. (Our Editor-in-Chief Eli Hodapp posted a rather impressive TouchArcade logo jack-o-lantern, a few weeks back, that's definitely worth a look.)
Well, on Halloween 2004, in the site's heyday, I grabbed a knife and went to work on a pumpkin in an attempt to render in candle light the "Picasso" Macintosh logo-inspired iPodHacks.com logo. The iPod-o-Lantern! It turned out not half-bad, and I took a few photos of the situation on my front steps and posted it it to the site as desktop wallpaper for the season. In that post, a spake thus:
With All Hallows' Eve just a few, short days a way, we here at iPodHacks let the spirit of the night take hold of us. All it took was a crisp autumn eve with leaves dancing magically on the wind, a patch of uncarved pumpkins, and—yes, perhaps a bit too much time on our hands as well…. The end result? Well, let's just say we can't think of a better desktop wallpaper image for this time of year.
Ahh, memories.
Now…is the iPod considered vintage computing hardware yet? Happy Halloween, everybody.