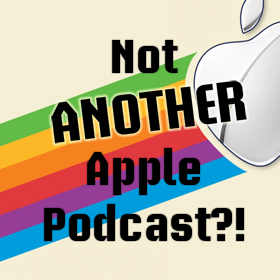 Oh, dear lordy, no!!
Yes, in fact, it's true. But it's not not another Apple podcast — it's the Not Another Apple Podcast?!
The podcast in question is a twice-a-month show hosted by myself and computer historian David Greelish of The Classic Computing Blog and the Retro Computing Roundtable podcast.
Every two weeks, David and I will take a look at the Apple of today, and it's products, balanced with discussion and comparison / contrast to the Apple of the past. Each episode may end up leaning further into one time-frame than the other, but we're hoping for a nice, balanced mix overall as the show progresses.
We've just posted our first episode, and I hope readers will consider giving it a listen. Any feedback would be most appreciated over at the Not Another Apple Podcast?! website.
Direct podcast link: NAAP-Show-01.mp3
iTunes link: Not Another Apple Podcast?!