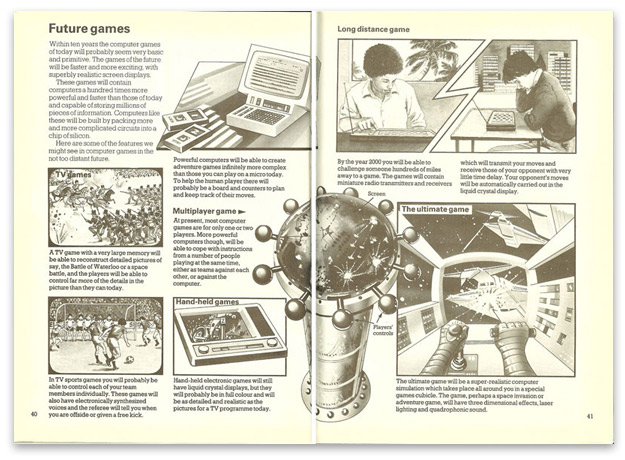 I think a lot about video games. I've been playing them for about 35 years now, and I'm fortunate enough that video games — playing them and writing about them with the rest of the great crew at TouchArcade — are my livelihood. This morning a twitter pal of mine tweeted out a great page scan from The Usborne Guide to Computer and Video Games, a children's book published in 1982.
The page is entitled "Future Games" and starts out as follows, and then proceeds to say sooth on several different types of games. (Click the image for a slightly larger version.)
Within ten years the computer games of today will probably seem very basic and primitive. The games of the future will be faster and more exciting, with superbly realistic screen displays.

These games will contain computers a hundred times more powerful and faster than those of today and capable of storing millions of pieces of information. Computers like these will be built by packing more and more complicated circuits into a chip of silicon.
Faster and more realistic screen displays? Definitely. More exciting? Well, the retro gamer in me gives pause, but in many cases, yes. At the time this article was written I was gaming on an Atari 2600, and a TI-99/4A wasn't far away. Ten years later, in 1992, I was gaming on a Macintosh LC (as best I could…), and an Amiga 1200 wasn't far away (thankfully).
Thanks to Kate Lorimer (@WhatKateDoes), a chiptune-making, retro loving Scottish lass, for the tweet.