On this day twenty five years ago, January 24th, 1984, Apple introduced the Macintosh personal computer to the world. It was the first computer sporting a graphical user interface that was remotely affordable to individuals. (Apple's Lisa, which preceded the Macintosh by a year, was the first commercial computer with a GUI, but it retailed for $10,000 while the faster Macintosh debuted at $2495.)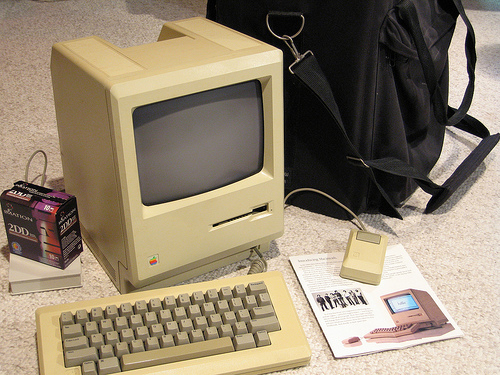 My original 128K Macintosh
Seventy-four days after the introduction of the Macintosh, 50,000 units had been sold. The Mac didn't exactly fly off the shelves, but it's impact on computing was profound. And, what's more, in case you hadn't noticed, the Macintosh is still around. In fact, earlier this week Apple, who has $28 billion in the bank, reported its first $10 billion revenue month.
Today, the Macintosh is stronger than ever.
This seems an ideal time to head over to key Macintosh system software developer Andy Hertzfeld's Folklore.org, "Anecdotes about the development of Apple's original Macintosh computer, and the people who created it." If you've an interest in the genesis story of the Macintosh, it's wonderful reading.
I will also point readers to a 10-minute Apple video from 1983 that introduces the Macintosh and includes commentary from key members of the Macintosh team. Posted by mac512.com.
As both of my regular readers are likely aware, I have a sizable collection of vintage computers in my own "Byte Cellar" (or basement computer room). I spend considerable time both using and maintaining these units and I love to post photos of the collection to my Flickr account. This being the case, I was recently encouraged by a friend on IRC to answer CNN's call for Macintosh photos and stories at iReport. I went ahead and posted a few photos and–long story short–ended up live (via phone) on CNN's Headline News with Chuck Roberts discussing my retro computer collection, here at the 25th birthday of the Mac.
Have a look at the piece, which includes a slideshow with several photos from my collection as well as those of other "Mac heads."
But, enough about my 15 minutes of fame. This day is about the Macintosh. And I certainly offer a warm wish of Happy Birthday to this technological phenomenon that has played so large a role in the greater portion of my life.
Thanks Steve.