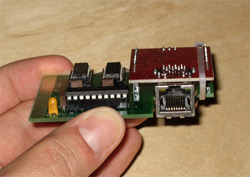 Back in April I made a post regarding the Uthernet card, Ethernet for the Apple II. As I indicated, I laid down my $89 and ordered one as soon as I learned that a2RetroSystems was selling a new batch. It promptly arrived and I promptly threw it into my Apple IIgs. Let me tell you about it.
The hardware install was rather straightforward; I just dropped the card into slot 2. As for the software, I wrote out an image of Contiki and also installed the Marinetti TCP/IP stack for GS/OS. To my surprise, Contiki provides a much more full-featured web suite than Marinetti and the available GS/OS Internet apps I've been able to find, which I find to be an unfortunate situation as I'd hoped to use the graphical WIMP interface of GS/OS for most of my IIgs net activity as opposed to the text-based interface of Contiki. Perhaps this will change down the road. (Any suggestions on useful GS/OS web apps would be most appreciated.)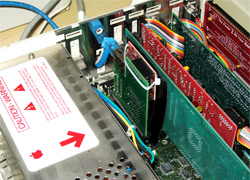 So far I've browed the web, chatted on IRC, performed various FTP operations, and fiddled with tenet on the IIgs using Contiki. The most valuable of these functions to me is FTP, as it was always a massive hassle to get an Apple II disk image downloaded from the net my Mac Pro to the IIgs–my previous drill had me routing the image through my Mac Plus. Now it's cake. As well, It's great fun to mess around on the net in general using the IIgs.
My $89 was definitely well spent. I had, for some time, contemplated the purchase of a LANceGS Ethernet card which debuted a few years earlier than the Uthernet, but its higher price always kept me from making the leap. It's great to have found a route to Ethernet on my IIgs for under $100.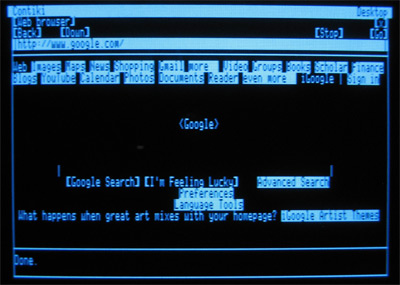 Have a look at my IIgs photo gallery and get a look at the Uthernet board. Thanks a2RetroSystems. This is what retro computing is all about.