I've mentioned in various posts on this blog that I've owned a couple of Atari STs over the years – a 520ST in late '86 and a Mega ST2 in '89. I sold them both long ago, but have particularly fond memories of that 520ST, which was a really nice setup, housed in a Micro Mate 520 STation. The last is a rather unique system stand/organizer which I've searched for on and off over the years, thinking it would be a great find in case I ever setup another ST system. Well, I found a 520 STation, as reported here back in February. And, as I expected (feared?), the STation lead me to setup a whole 520ST system with which to fill it.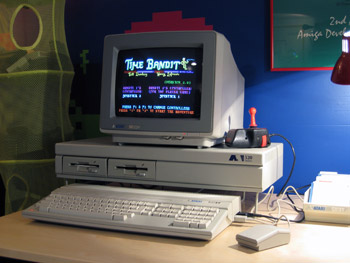 It's a standard, early model 520ST with 512K RAM and an integrated RF modulator. I've got two SF314 (double sided) floppy drives tied to it, along with a classic 15kHz SC1224 RGB monitor. I've replaced the keyboard and body plastic on the 520ST with brand new pieces, so it truly feels like a new machine. I've had fun playing with it so far, and intend to spend much more time with it in the coming months.
Click the above pic to see my full 520ST gallery.