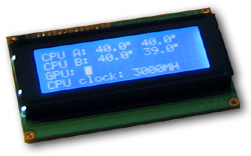 I've long used Bresink's Hardware Monitor to keep a tab on the vitals of various Macs I've used in recent years. After upgrading from a dual G5 2.5 to a quad-core Mac Pro, I hit the Hardware Monitor website to grab a Universal version of the app. That's when I noted that external LCD support had been added to the program. Right now the only officially supported LCD controller is Code Mercenaries' USB-based IO-Warrior.
I put my order in right away.
This weekend I received both the IO-Warrior 24 kit as well as the white-on-blue, LED-lit 4×24 LCD I ordered. I made some free time this afternoon, pulled out the soldering iron, chopped up an old SCSI cable, and got things together. The result is most technoglorious. (See photos here and a QuickTime h264 video here, showing the unit running on a 3GHz quad-core Mac Pro.)
See another user's IO-Warrio project involving custom code pushing iTunes and EyeTV data from Mac to LCD.
Next step: construct a balsa wood enclosure painted flat black. Stay tuned.
UPDATE: It wasn't balsa wood but PixelBlocks that came to the rescue on an enclosure…