I've recently stumbled onto what may be the most densely packed piece of retro computing goodness that can be found anywhere: the GP2X personal entertainment player from GamePark Holdings. In brief, it's a handheld game/media machine based on a dual-core 200MHz ARM9-based CPU (soft-clockable up to around 250MHz) that sports a 3.5-inch 320×240 pixel color LCD screen and runs Linux with a simple, graphical menu system on top. Its chipset contains a 2D blitter (a help with games) and a hardware MPEG decoder, allowing the unit to playback MPEG4, XVID, DIVX, and WMV files of up to 720×480 at 30fps. It has a built-in audio player that supports MP3 and OGG files, with WMA on the way. It even has s-video / stereo TV out. All powered by two AA batteries.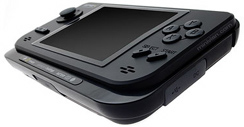 The GP2X is an open system that comes with the dev kit CD right in the box, a fact that has brought it much support from the developer community, including a good number of original as well as ported games (DOOM, Quake, Nethack, etc.). But the real value here is the GP2X's prowess at oldschool emulation; a wide variety of emulators have been ported to the platform. The list of supported systems is long and ranges from the the C64 and Atari 800 to the Amiga and Atari ST with the Playstation even finding support on the GP2X. Full MAME support puts over 1,100 games in your pocket, as well. A brief ad video provides a quick glimpse of what's possible.
I purchsed my GP2X bundle from Play-Asia and paid $169 USD for the main unit. Despite recent preoccupations, I've spent a good deal of free time recently setting up various emulators and ROMs collections on the 2GB SD card I've got in the unit. So far emulation of these systems is up and running on my GP2X:
Amiga, Atari 800, Atari ST, Commodore 64, ZX Spectrum, Apple IIe, TI-99/4A, Colecovision, Gameboy / Gameboy Color, Odyssey 2, Sega Genesis, Sega Master System, Atari Lynx, Atari 7800, MAME, NeoGeo, and Super Nintendo
The great majority run smooth and at full speed. I download another emulator every day or so, it seems. It's great fun reliving old memories of early 80's gaming as well as getting familiar with classic systems I'd never really played with before, such as the Sinclair Spectrum. It's the most vintage computing fun I've had in a long while, and I really hope that the word gets out about this great machine – the more users out there, the richer the software base will become.
Why not grab one, yourself? See this lengthy review full of photos to learn more, or visit these GP2X forums to meet the community and ask a few questions.