The Apple //c was my first Apple computer, purchased back in 1984 to replace my fading TI-99/4A (the first computer I ever owned). It was a very slick machine, basically a slotless enhanced Apple IIe with most of the ports you could wish for built in. It was a striking system to look at; the word "sexy" was frequently used to describe its appearance. Apple contracted industrial design firm Frog Design to design the enclosure of the //c and its accompanying 9″ monochrome screen. The Apple //c represents such a friendly and stylish design that it was the obvious choice when looking for an image to place into the ByteCellar logo at the top of the page.
I was very fond of my //c and spent countless hours in front of it before ultimately replacing it with an Amiga 1000 in late 1985. I don't believe any Apple II I've owned since was as elegant, and the idea of one day putting another //c system together has long played in the back of my mind, but I could never justify it as I have an Apple IIgs that contains all of the functionality of the //c and then some. Also, there's really no space in my computer room for two machines with the same capabilities. It was several weeks ago, walking down the halls of my office building, that I found a route to having a //c to play with. As I was passing by this corner office, I noticed the guy working there had several antique typewriters setup "on display" to add to his office decor. If an antique typewriter, why not a //c?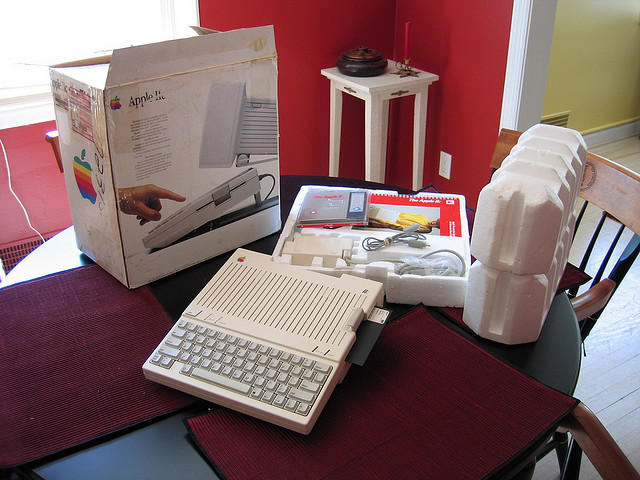 So after some careful eBay digging, I found an Apple //c in excellent condition in its original box with all original manuals and disks, a //c monitor in its original box that looks like it has never been taken out, with plastic as white as the driven snow, and finally a perfectly clean //c monitor stand to complete the system. A few foam peanuts later and voila! As close to a perfect //c setup as I could ever hope to have, here 21 years after its debut. Shortly it will sit behind me on my office desk, looking out over the streets of Washington D.C.
Have a look at photos taken during the initial unboxing and setup.
UPDATE: As per this more recent thread, the //c is now in situ and a rather impressive pic of it, if I do say so myself, can be seen here.